David Herbert
@king.david
Home
The Chaser
@chaser
4 days ago
Harvey Norman declares bankruptcy after going whole month without government handout
The Chaser
@chaser
4 days ago
Qantas hit with further scandal after passenger discovers $50 million worth of lettuce in boogie board bag
The Chaser
@chaser
4 days ago
Struggling young people encouraged to just cut back on food, housing, electricity, transport…
The Chaser
@chaser
4 days ago
"No corruption in Barilaro's appointment" declares new head of ICAC John Barilaro
The Chaser
@chaser
5 days ago
Cost blowout explained by NSW Govt accidentally approving 25 million new flags on Harbour Bridge
The Chaser
@chaser
1 week ago
Awkward: 60 children dead after Qantas forgets to collect youth choir
The Chaser
@chaser
2 weeks ago
Kmart finally convince conspiracy theorists to wear masks by introducing face tracking in all stores
Podcast
@chaser
2 weeks ago
Episode One: Weekly news wrap up
https://open.spotify.com/episode/4Rok8vVJarY0ntbsf3vp74?si=9d49c2c0d5144d02
Four podcasters walk into a bar... The Chaser Report has gone LIVE! Dom, Charles, Craig and Gabbi all record direct from the pub as part of our new method to simultaneously cut production costs and increase our bar tab.
Episode Two: Drunken the Chase(r)
https://open.spotify.com/episode/5y8EGkMQ4NiDSmlIFlzEVl?si=kh6R7RBSRKqcXERojCHQkg Charles hosts a highly topical news quiz that's so up-to-date he fails to make it five minutes without forgetting what day it is. Make sure to subscribe to
Acast+
to listen to tomorrow's special Drunk Q&A episode which is somehow even looser than this.
Episode Three: Craig solves the NSW Blues
https://open.spotify.com/episode/5DzdxradjQAd1wU46DpFoo Craig is back to give his amazing solutions to a live audience! Join Charles, Dom, and Gabbi as they try to poke flaws in the grand solutions to how we can fix the State of Origin.
Episode Four: 
https://open.spotify.com/episode/3jEIGQM04BoYBvBraksuOU Gabbi flexes her musical theatre knowledge by spilling the tea on Andrew Lloyd Webber, and then flexes her musical talent with a touching ode to everyone's least favourite type of musicians. Make sure to come along next week to our recording by buying a ticket from 
https://chaser.com.au/events/the-chaser-report-live/
The Chaser
@chaser
2 weeks ago
Electricity crisis solved after scientists harness energy from Sydney Morning Herald's frantic backpedalling
The Chaser
@chaser
3 weeks ago
'We'd never hire someone who'd incite a riot' claims news network that hired Alan Jones
Breaking Update
@iamolivia
58 mins
Scott Morrison demands schools expel trans kids so they can get back to driving forklifts
Podcast
@carolechavez
1 hr
Today on The Chaser Report podcast, Charles and Dom are joined by Floobey McGee to discuss his foray into politics.
The Chaser
@eric_alvarez
2 hrs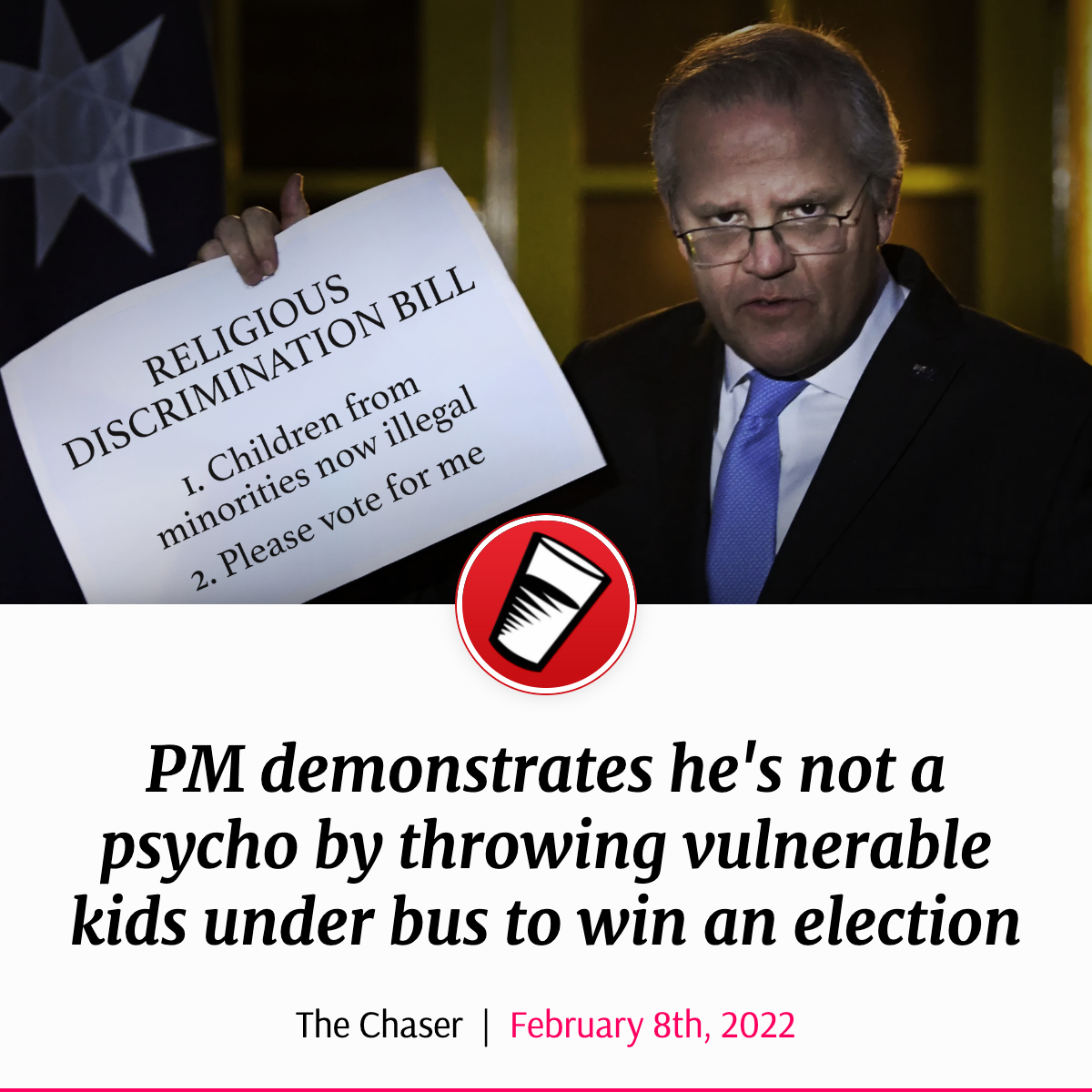 Harry Wilson
@Harrywilson
. 4hrs
There's no clear correlation between your background and what you are going to achieve in life..
Nora Chao
@chaonora
. 6hrs
Time to settle down and play my favourite game IN THE WORLD Earth globe europe-africa
Haven't played for about a month, too busy coding. So tired this evening though. Poker tournament with husband later..
Top News

ABC News

Scott Morrison pushes forward with Religious Discrimination Bill

274K Tweets

Sydney Morning Herald

Neighbours faces the axe after 35 years on air

154K Tweets

The Shot

A moving story from writer Dave Milbo

135K Tweets

Trending in Naija

#Dora

124K Tweets

Trending in Naija

#TGIF

43K Tweets